Tiny Little Murderous Machines Production Diary
Conceiving a New World
Writer-Director Dean Gold yields insights into the creative process behind
Tiny Little Murderous Machines
:
I am often asked how I came up with the "idea" of Tiny Little Murderous Machines. It was a convergence of ideas, really. Originally, I imagined a race of super-fit, cult-like hive of supermen that wanted to dominate the planet (later I called this race "The Zorn"). Taking over the world is pretty common in fiction, so I needed a new twist. A rival super-race would be manufactured as a counterforce to the Z.O.R.N. (Zenith of Radical Nanotechnology). That's was the goal of program called "Project Vanquish". The only problem is that the Vanquishers are unwilling participants. In the future, most of the citizenry have already abdicating their freedom. To make the conspiracy more believable, the stage for the initial takeover was set within a limited district that came to be called "Sector 70".

As a teenager, I ran into a book called Becoming Immortal which described how nanotechnology could prolong our lives indefinitely. I imagined the implications of how the technology would also give us quasi-superpowers. It was clear from the beginning that this would be a genre movie. It needed action, sexy women, and gore, but it also needed heart. I wanted to stay away from making it a typical superhero story, so Jarron is on a mission of self-preservation, trying save himself from destruction by his nanobots. Vanquisher technology was meant to "vanquish" a manufactured enemy, but he isn't interested in being a part of Zeiscom's plans. So, as is in his nature, Jarron's just out for himself - at first. Jarron's not as strong as Superman. Bullets will penetrate him. He's biologically superior, more like the teenage girl in the movie Hanna or Jude Law's character in Gattaca. He's strong, but his primary powers are his hyper-learning muscle memory and healing factor.

I drew upon fondness for certain movies of my youth, fantastical ones like Wicked City and low-budget wonders like El Mariachi and Following. The conspiratorial tone came from the likes of All The Presidents Men and the X-Files I wanted it to include higher ideas such as in Michael Clayton The Fugitive, and The Matrix but it spans the high-brow, low-brow spectrum and includes influences from Scanners, Re-animator, and Army of Darkness as well as trashier stuff like stuff Charles Band movies from the 1980's. And there's some outlandish gravy like Tetsuo the Iron Man (which I think is brilliant) and Tokyo Gore Police. Hopefully it has more Dark City than The Guyver, but I liked that one too. For the look of the film, much of it is dark. I used Dark City, Bladerunner, and late season X-Files as inspirations. I knew that was aiming very very high, but early on I made the decision to shoot on film instead of digital and that helped. I spoke once with Stephen Poster, the Director of Photography on Donnie Darko and The Box and he said it was a good choice. As a director, I'm a chameleon. To me, every film demands a distinct approach to fullfil the film's vision. If I had to describe the director cap I wore on this film, it might be called "Robert Rodriguez meets David Cronenberg."
Tiny Little Murderous Machines
is a potent concoction no doubt, and destined to have a cult following. It spans multiple fan bases from comic-book crowd, sci-fi geeks, horror fans, martial arts lovers, and indie film fans.
Visualizing Tiny Little Murderous Machines






"I looked at films and stills from other sci-fi films. Sector 70 would be a dark industrial cityscape. The Zorn lair would be underground. I wanted Jarron Brenner to live in a futuristic high rise like this shot from Minority Report, highlighting his status. Inside would be a classically regal interior, which I would find later."

Location Scouting


Location scouting is an involved process on Tiny Little Murderous Machines. Dozens of locations are considered, some well beyond the Los Angeles thirty-mile zone. A high number of locations are used in the film to tell the scale of the story and take the action where it needs to be.

Making a Monster


"I wanted a 'skinless' look to the mutant Zorn. They're juneniles that aren't fully developed and haven't grown their skin yet. The texture is underlying muscle tissue. I thought of the effect in Hellraiser but it also needed to look non-human, alien-like." sculpting of the mutant Zorn head is loosely based on concept art. "It was originally green, but I changed it to red to make it look like bloody meat." Three full-body creature suits are created.





Andrew Spencer, the first Vanquisher with advanced disease brought on by nanobots would be loosely based on this concept art. The skin color, originally gray, was changed to blue to look like victims of argyria, a toxicity to silver exposure. "Scientifically accurate or not, I imagined nanobots as microscopic silver machines, and thought the skin color effect worked appropriately for advanced nanobot disease."

Wardrobe Many pieces of key wardrobe are carefully selected for character appropriateness and pizazz.



A badass designer long leather jacket used for Dr. Zeigler and later Jarron.



The nanobot-containing pressure suit is a museum replica of a 1970's Russian air force suit.



Silk blouses for female Zorn breeders imported from Shanghai. Miranda's military-style jacket from her first scene.



Refined Kenneth Cole eyeglasses for Jarron.



Hazmat suits and gas masks. The Blackhawk Vests and military uniforms were screen used on V for Vendetta





Sexy buckle-laden female punk garb is imported from Singapore.




Cameras Start Rolling Second Unit photography takes place over the course of several weeks in Los Angeles, CA and the surrounding area.

While photographing the exterior of the Hotel Angeleno, the small production crew was rebuffed by hotel security, citing the fear that they were paparazzi trying to spy on a celebrity guest through the hotel windows.

Some other early shots include night-lit store windows of the seedy metropolis.





Finding The Cast for Tiny Little Murderous Machines There were at least nine thousand submissions for roles in Tiny Little Murderous Machines, many of them for the two lead parts. Auditions take place at Film Independent and Dream Big Casting's space. About three dozen beautiful and talented actresses read for the part of Miranda Miranda May. Casting Dan Velez and Director Dean Gold both agree that Dominika Wolski stands apart with her star quality.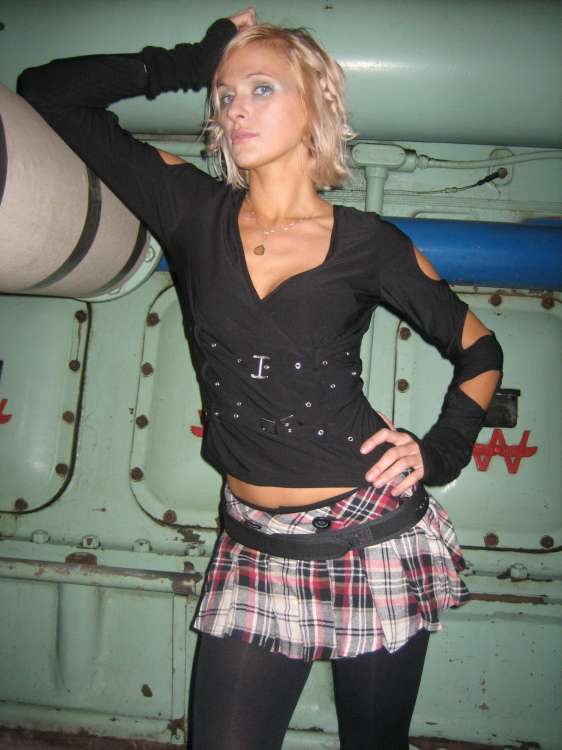 Supporting actors May Tan, Michael Fallon, Cal Rein, Dave Vescio, Jesse Wang, and Tammy Felice are cast. Daz Crawford is cast as mercenary Clive Maddocks. The director had seen a movie Daz starred in called
T.K.O.
and was impressed with Daz' performance. Daz also had parts in
Blade II
and
The World is Not Enough
.
Assistant to Director Joseph Dias, Jr. flies in from the east coast to lend a crucial hand to the production. While making a run, Joe bumps into Will Smith on the street in Santa Monica. "We could have gotten him into the film, but Joe 'didn't have the time for him.' "
Casting The Vanquisher Himself "My standards for the leads were appropriately high. A performer who is both a great actor and a great physical perfomer is a very very hard thing to find. You usually find either one or the other. There were many rounds of looking for the male lead to play Jarron Brenner, The Vanquisher himself. At one point, I was at a complete standstill, unsatisfied with my options. Finally, out of the blue, Casting Director Dan Velez called and said, 'I can't believe I didn't think of this guy'. That guy turned out to be Ben Seton. A one- on-one private audition was quickly arranged in Hollywood. "He had everything I was looking for in a lead, charisma, charm, looks, physical ability." You can see it yourself in his acting demo which I didn't even see until later. "When I was done auditioning him, I was sure he was the one. I think I called him the next day and told him he was in."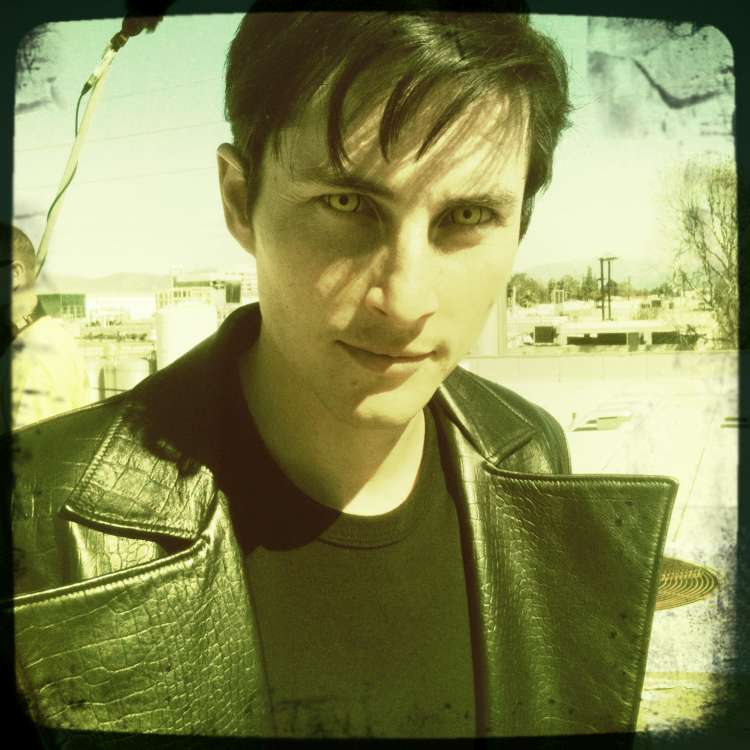 Soon Ben Seton and Dominika Wolski are brought together as Jarron and Miranda for the first time at assistant director Michael Mulcahey's apartment. They have instant chemistry and hit it off well. "Now I felt energized."
"I liked that Miranda would be a little older than Jarron, underscoring her worldliness. Jarron basically starts out a yuppie brat and Miranda could have traversed the planet living a dangerous life for some time.
Ben Seton is a humble guy, but exudes a certain class about him that lends itself to his character. That is part of the reason why Jarron was so hard to to cast. You can find a lot of athletic actors, but Jarron Brenner is not a jock, he's transformed into being The Vanquisher, so the role called for someone who could have his mind on things other than working out at the gym.
I always conceived of Miranda being a tough, take-charge woman. I think a woman being tough and sexy at the same is a very hard thing to do. Tough often comes off as unattractive and too sexy often makes toughness hard to believe. Few actresses can pull it off. Angelina Jolie. Lucy Lawless. And Dominika Wolski."
More Looks for Miranda In addition to the wardrobe above, Dominika Wolski explored several different looks for Miranda May. "She looked great in all of them. I chose the black dresses in keeping with a femme fatale image for her character and the blue dress for a scene in which she impersonates another character."





The Ultimate (Near) Costume Dominika came up with a great idea that took cue from The Fifth Element. "It had the look of white bandages for when Miranda wakes up in medical quarantine. She gave me an option for black too. I opted for the white."






Production Day 1 An abandoned Los Angeles jail (where some of the original A Nightmare on Elm Street was filmed) serves creepily well for Guantanamo Bay-style setting. Tom Beyer, as Lt. Gaines knocks it out of the park with a performance of a man who saw more than he should have.





Production Day 2 We start out Dominika Wolski's first day like any worthy production should: we chain her up and whip her. No kidding around. May Tan, Jesse Wang, and Tammy Felice make the scene appropriately strange. Later, for the scene in Miranda's medical quarantine chamber, Dominika inspires us all with her racy bandagewear. Daz Crawford as mercenary rival Clive Maddocks sneers at the screen, frightening all whom dare look, except Miranda whose character is already played with complete command by Dominika. Ben Seton launches directly into action hero mode, busting through a wall and nailing a fight scene with Menamy Mitanes in minimal time.

Production Day 3 The workers at the production location are already smitten by Dominika, giving The Vanquisher crew some measure of good will for the long road ahead. Dominika has a great time improvising dialogue with extras playing corporate suits. Dominika tames the extras with lollipops.





Production Day 4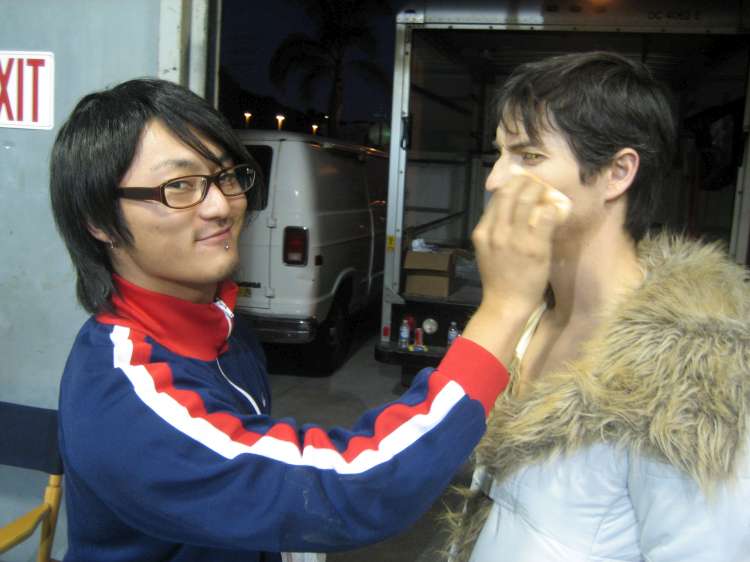 The relationship between Jarron and Miranda is explored for the first time on screen as Miranda helps Jarron understand his Vanquisher abilities. The dynamic between the leads works instantly. Daz Crawford and Dominika Wolski improvise some twistedly intimate moments for their characters. Jesse Wang is suitably slimy as The Zorn Diplomat luridly tries to ensnare Miranda. Here, Yusuke Takeishi proudly applies Ben's make up.
Production Day 5
The mother of all action scenes on
Tiny Little Murderous Machines
takes place with Jarron battling his way to the Janus Device on metal industrial catwalks going up multiple stories. The sequence is devised as a "reverse
Game of Death
". Francisco Bulgarelli does a great job lighting under difficult conditions. He and Dean work in tandem to capture the action. Ken Arata does some impressive parkour and Ben Seton leaps like a cat over railings.
Production Day 6
Dominika dons the punk garb look and comes face to face with her nemesis Clive Maddocks, played by Daz Crawford. Later, Jarron takes a pounding from his metal hand.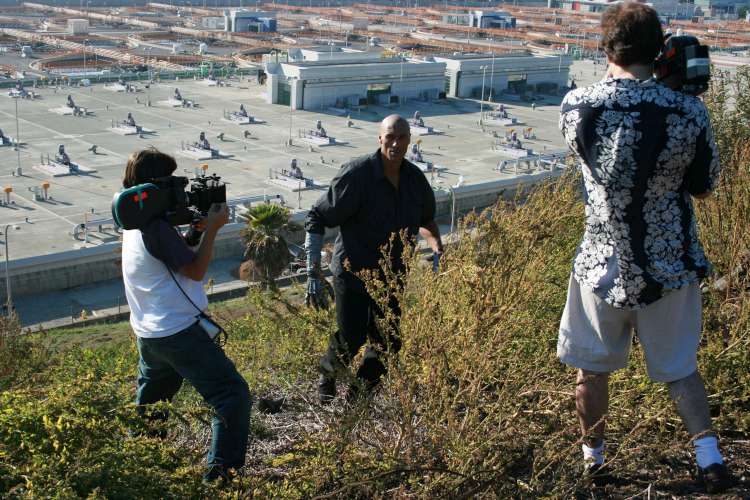 Production Day 7
A very late night filming two more Jarron and Miranda scenes as well as the "experiment room" scene shown as the opening shot of the trailer.
Production Day 8
Jarron and Miranda meet secretive Dr. Zeigler in a garage, a la Deep Throat.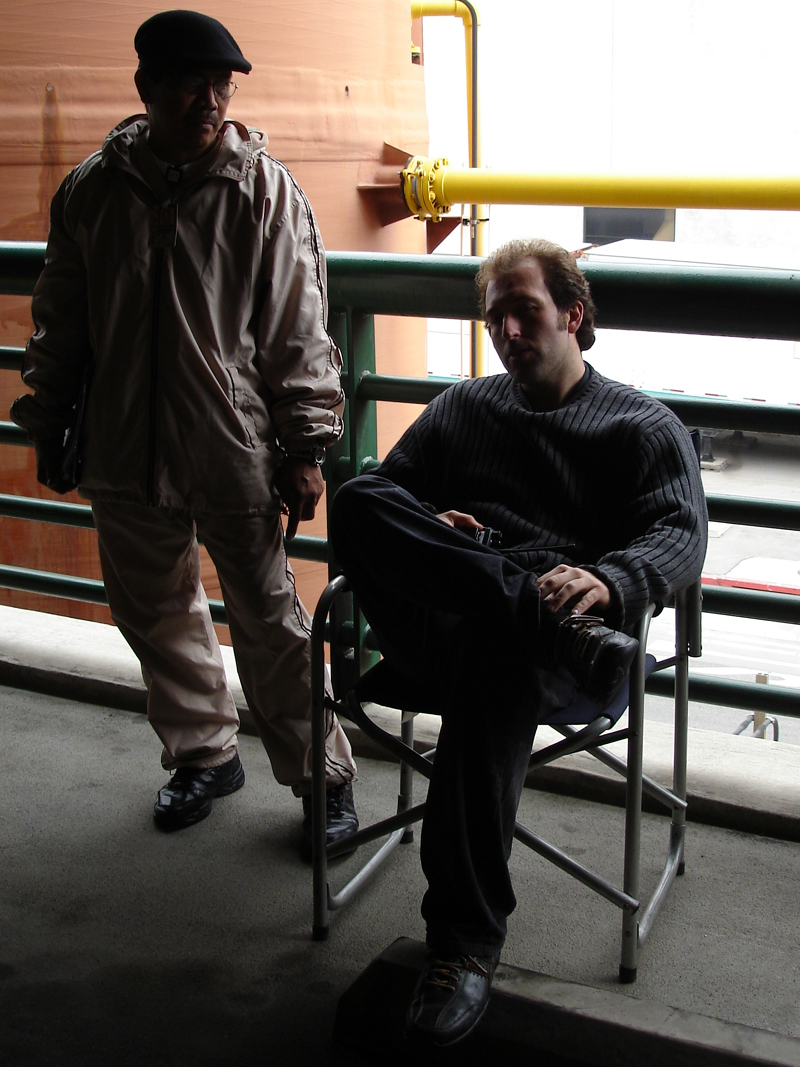 Production Day 9
Jarron and Miranda seek out the dying Vanquisher, Andrew Spencer. Another overnight shoot.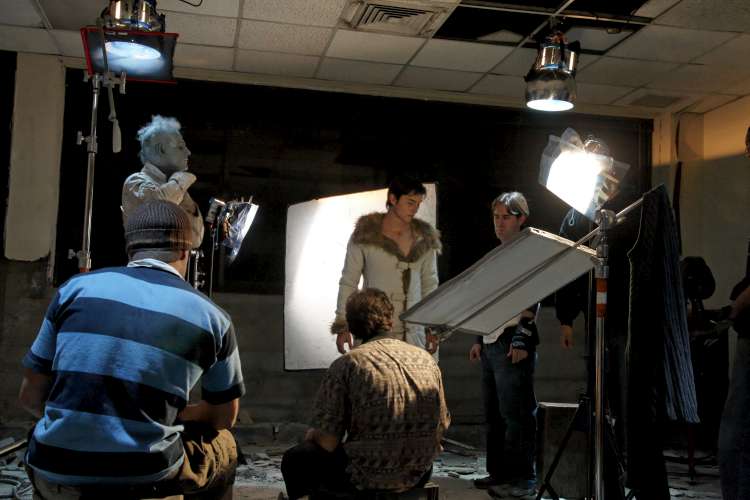 Production Day 10
Zeigler Lab Dave Vescio eats up the screen. Creature-suit performer Jennell Mundorf performs an uncanny mutant Zorn scream for the ages.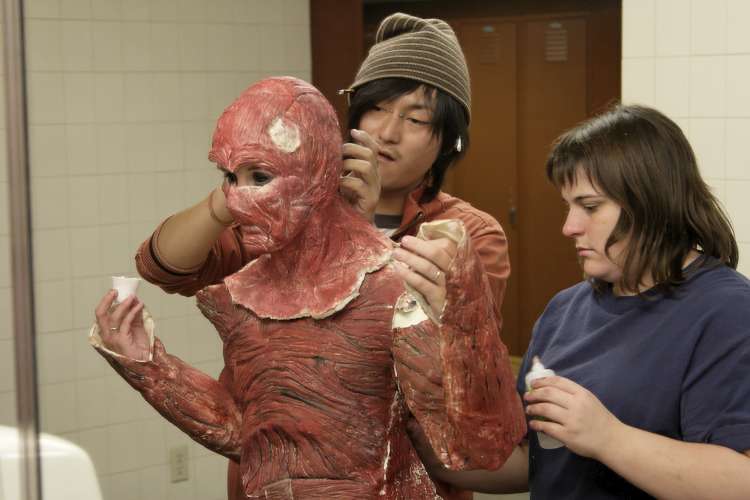 Production Day 11
The Queen Zorn seduces one of the Zorn strongmen. Gil Navarra makes his first appearance as a Zorn and teaches Dave Vescio's Zeigler a lesson. Here April Metcalf licks Dave Vescio's head.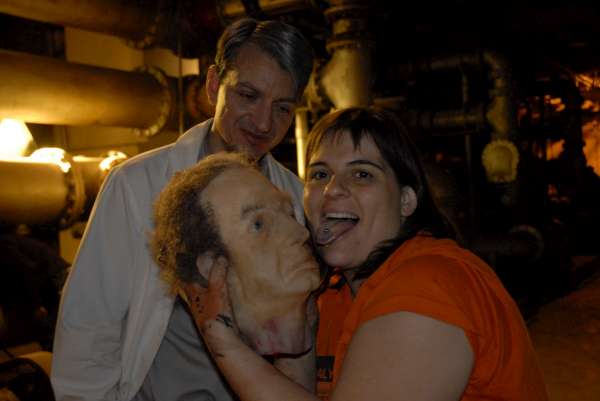 Production Day 12
Miranda infiltrates the Zorn lair. Zorn puts the squeeze on Miranda. Dominika Wolski gets a taste of creamy Zorn vomit. Gil Navarra's great attitude, awesome look, and physical ability stand out. Dean Gold decides to expand his role into what later becomes known as the "Alpha Zorn Warrior", the face of the Zorn's deadly strength that will target Jarron.
Dominika Wolski surreptitiously captures with a digital still camera a glimpse into
Dean Gold
directing the scene where Zorn Queen feeds milk to mutant offspring.
"...look at her and like be groveling...kind of be pacing back and forth frantically like you're nervous that you haven't gotten your fill of milk lately."
Watch Dean Gold direct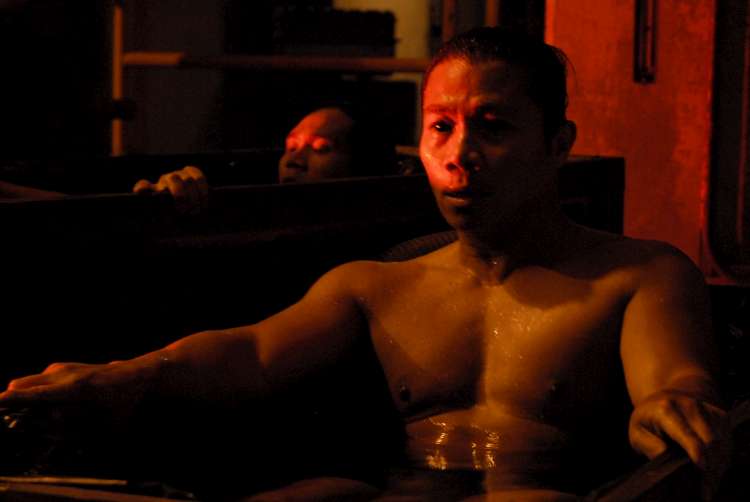 Production Day 13
Jarron wakes up nearly naked the morning in a park after his abduction. Ben is on set in his underwear. Dominika is pleased with Ben's role reversal, but also notes that Dean "laughs at the most inappropriate moments." Production comes to a screetching halt as an old couple meanders onto our set, bewildered at the site of Ben outside in his underwear. Rather than tell them we have a permit to film, we laugh at them mercilessly. The snapshot of the century, here on display, captures our misdeed. Protestors soon gather.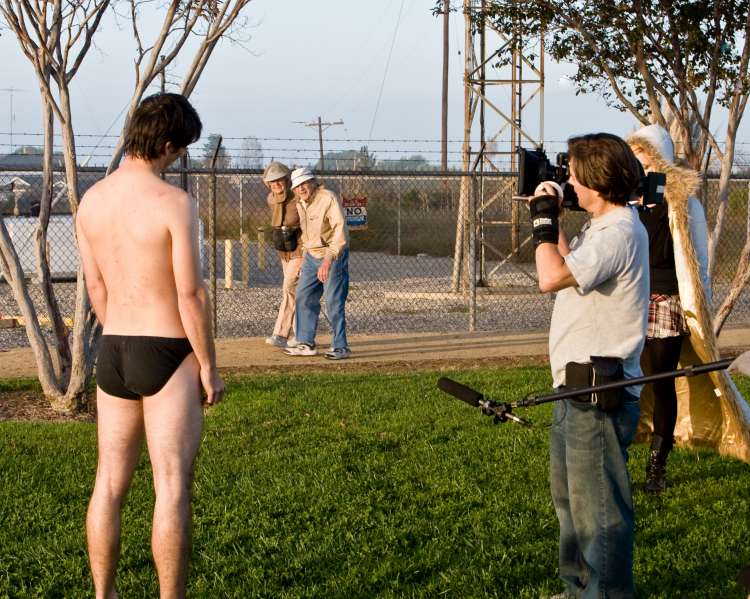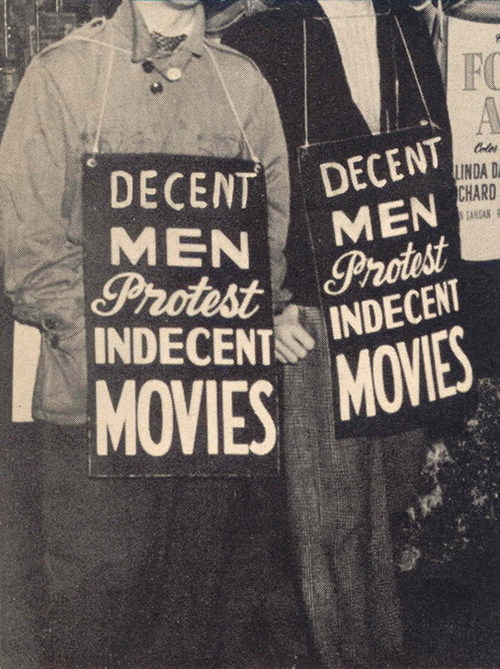 At night, a happy accident occurs when fog rolls in and we take advantage to shoot a walking conversation between Jarron and Miranda on their way to see Andrew Spencer.
Production Day 14
A scary part of downtown, a late night, and trying to get Ben to stop from walking "silly". Why Miranda is released from quarantine in a hot evening dress and high boots, we never explain. We kinda like it that way.
Production Day 15
Tammy Felice is both bounded and gagged in the backseat of her own car.
Production Day 16
Michael Fallon and Cal Rein, The Stern-Faced Men at their best, stalk Jarron in his apartment. Veteran actress Amy Lyndon has a cameo appearance as Jarron's obnoxious neighbor.
Production Day 17
A happy accident occurs with the unavailability of the night's location. Instead, the backup location adds to the dark feeling of the scene even better. The Stern-Faced Men close in on Jarron with some memorable visuals.
Production Day 18
Highflying action as Tosha Pierce and Levonne Pratt kick some ass. Ben uses a shopping cart as a weapon. Associate Producer Troy Davis turns an incredible performance as a stiff, nothing like his real-life self.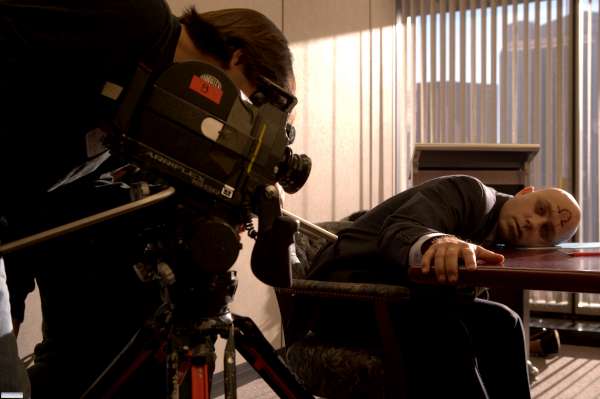 Production Day 19
Michael Fallon and Cal Rein as the Stern-Faced Men stalk Jarron on the metro rail. It's Miranda May's first appearance.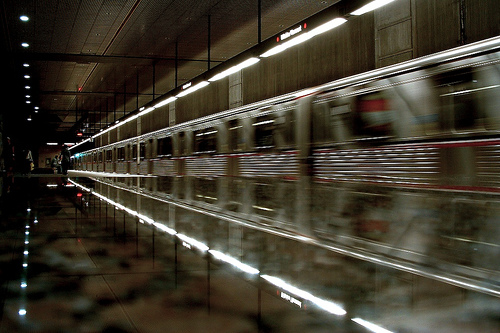 Production Day 20
Dominika Wolski puts together a pictorial scrapbook for the shoot at
Vasquez Rocks Park.
Production Day 21
Ben Seton performs incredible backwards acting as Jarron, blind, nearly gets hit by a car. A later shot is slightly inspired by this shot from
Terminator 3
. Ben's performance of a maimed Jarron triggers Associate Producer Troy Davis to admit feeling genuinely "upset" and that makes Director Dean Gold feel good.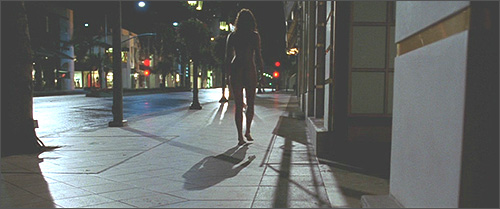 Trailer Voiceover Day
At RP Studios in North Hollywood, Dean directs amazing voiceover artist Gene Rowley whose voiceover trailer credits include The
Chronicles of Narnia
,
88 minutes
,
Horton Hears a Who
, and
Shutter
.
Vanquisher Website and First Trailer
The first trailer is cut and the The Vanquisher Official website at vanquishermovie.com goes live.
Numerous film distributors clamor for a closer look
Cutting the Film
A pre-rough cut is assembled. Joseph Dias, Jr. lends his fine creativity to foley sound effects - namely just how much oomph, boom, and splatter should accompany each strike during the fight scenes. His delight at the progress is something to behold.
Relocation
Production moves into an office in Westwood. Associate Producer Troy Davis contributes resources for the production.
Cutting the Film
The Pre-Rough Cut is shown to several delighted members of the cast and crew.
Casting "Marie"
Auditions take place at the Westwood production office for the role of Marie, Jarron's lost love. John Hanlin and Magdalena Boperina agree with Dean Gold that Casey Dacanay is the one. Dean sees her on-screen appeal as a right mixture of beauty, strength, and charisma.
A Visit to Rancho Magdalena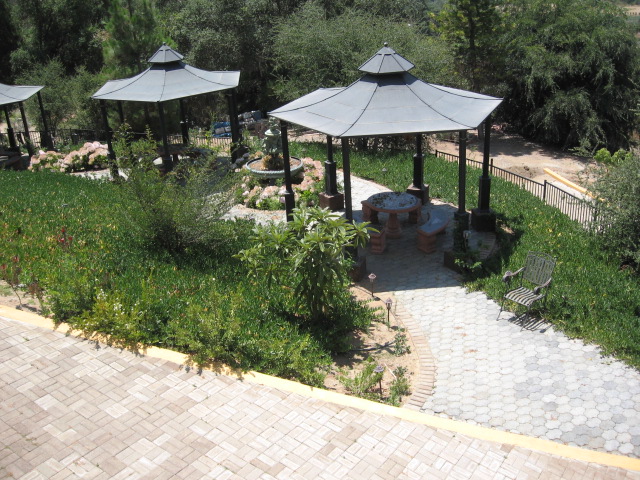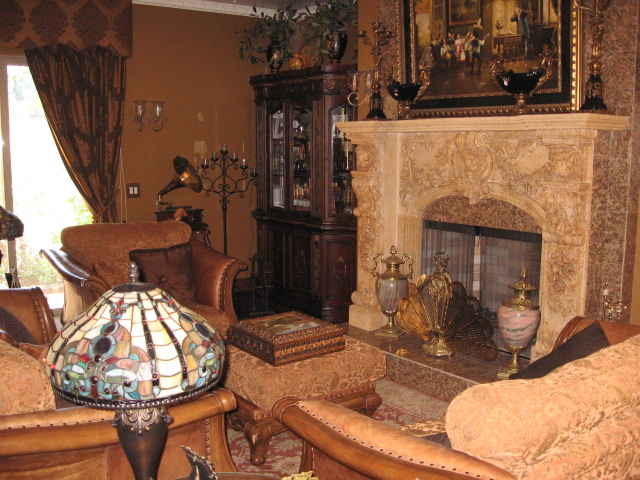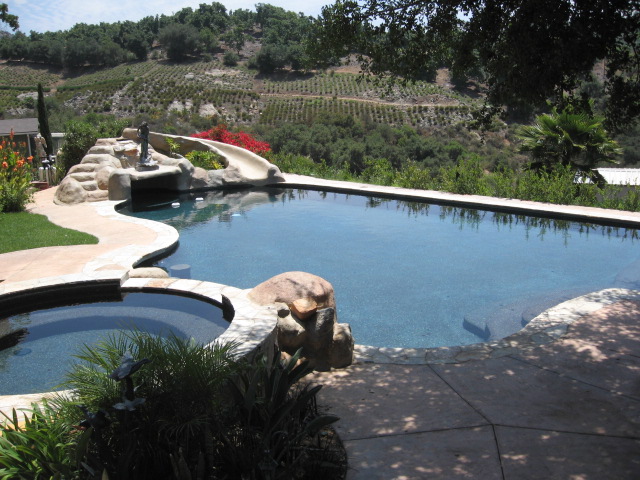 Associate Producer Josh Swick and Dean Gold scout a house in La Canada and then are off to Rancho Magdalena, a beautiful get-a-way resort in San Diego County with a sweeping vista fit for a military scene, along many other features. The shots above take place at the location scout. Nearby, we visit a the fruit stand of religious commune. Later, a crew member tells Dean a leader in the commune told him that mixed race couples are "against God's plan". "Weird feeling like being in
The Wicker Man
. Then we savored their tasty produce."
Picking a Fight
Ben Seton and Gil Navarra experiment with ideas on action choreography at the production location for the first encounter between their characters: Jarron and the Alpha Zorn Warrior. Rehearsals take place in private spaces and at the location itself.
Gil's enthusiasm is unparalled. A DVD library was assembled for fight choreography ideas. It was based on the recommendations of martial arts movie afficioncado Ron Hall and Josh Needleman including wonderful names such as
Lone Wolf and Cub: Baby Cart in the Land of Demons
and
Kill and Kill Again
. The most memorable sequences are in
Tom Yung Goong
(The Protector). Ben and Gil are always interested with finding something different than what has been seen before.
Dean, Ben, and Gil develop a habit of devising demented ideas that are sometimes reigned back in, sometimes not.
Production Day 22
The house in La Canada turns out to be the perfect regal living room interior for Jarron's apartment. A gross-out special effects shot takes some time to get right and Ben's face is doused in blood over and over. Nahid creeps Ben out by delightfully commenting, "I love his screaming!" over and over. Cindy Long makes an appearance as one of Jarron's disposable lovers. Michael Fallon resumes Jarron stalking as the Stern-Faced Man and Gil Navarra visits the set.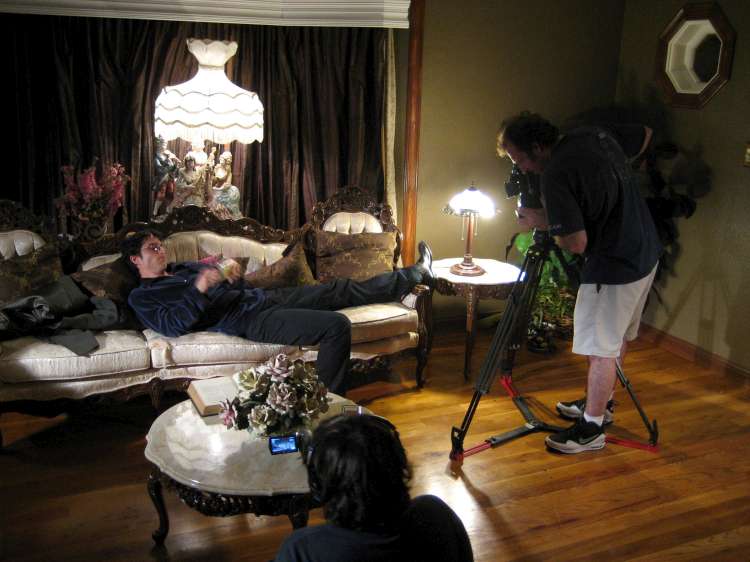 Production Day 23
A phone booth in a desolate Los Angeles street sets the scene for a perfectly panicked performance by Ben Seton. The first phone booth intended for use becomes unavailable, another happy accident yielding a better result.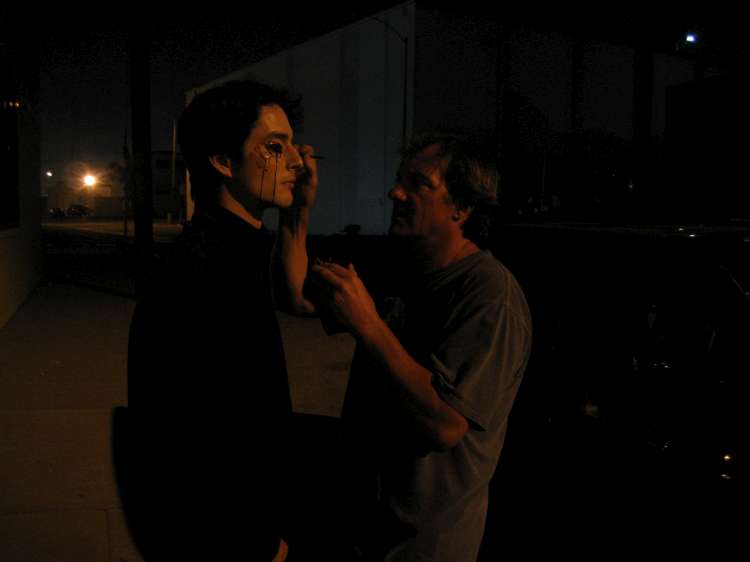 Production Day 24
Jarron draws first blood in the encounter with the Alpha Zorn Warrior.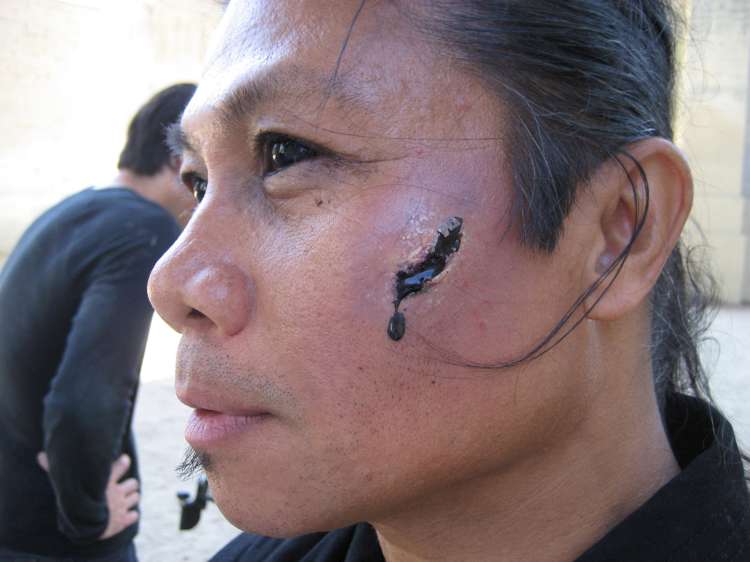 Prep Day at Rancho Magdalena
The production crew arrives a day early at Rancho Magdalena to prep for for the big military shoot the following day. Here Joseph Gonazalez and Josh Swick paint props and a vehicle.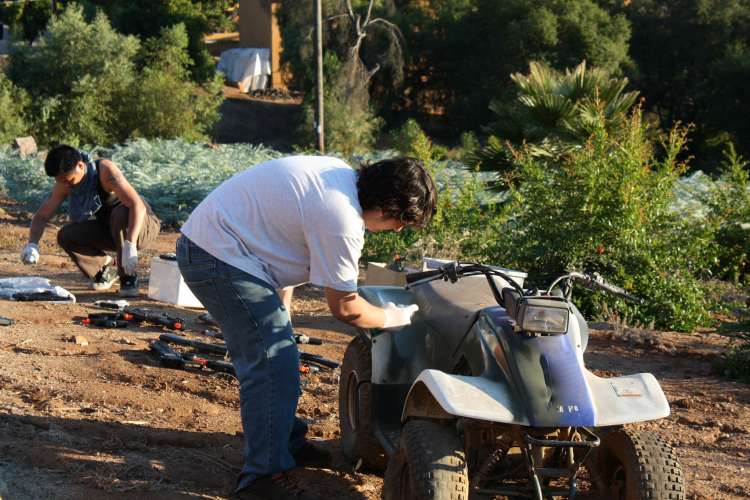 Production Day 25
A day in the blistering sun at Rancho Magdalena. Extras fill up the beautiful vista as Sector Soldiers attacked by a mutant Zorn. Actor Tom Beyer returns as Lt. Gaines in a desperate effort to penetrate Sector 70's perimeter. Josh Swick steps in for creature suit duty.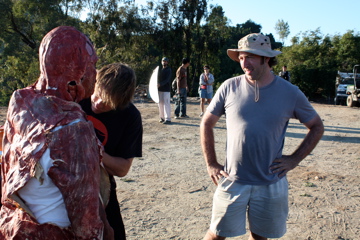 Production Day 26
More blood, please.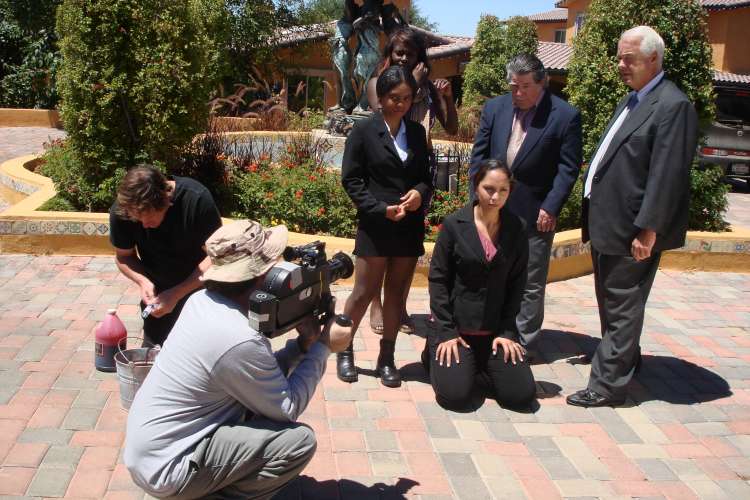 Production Day 27
Production at Blue Rooster Atwater Studios. Casey Decanay creates a first rate performance as Jarron's lost love, Marie.
Production Day 28
Production at Blue Rooster Atwater Studios. Ben Seton is back in action, taking on a gang of hazmat guys.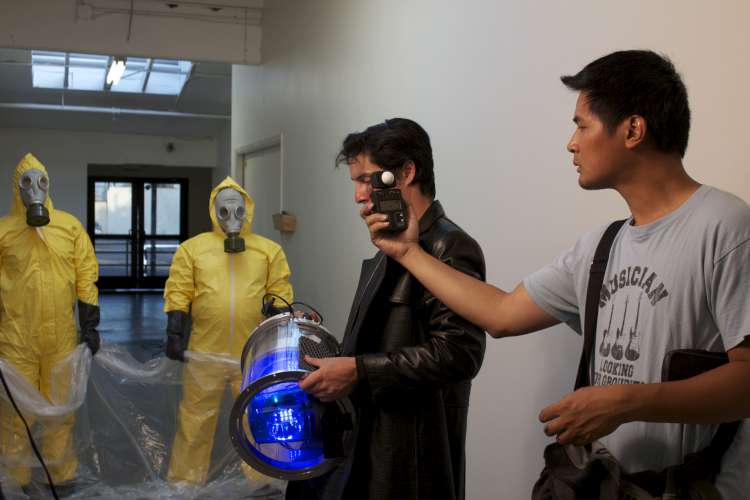 Production Day 29
A day of pick up shots in Culver City. Dominika back on set after a hiatus is a welcomed sight by Dean and Ben. Production stumbles upon a moped completely by accident. They then steal the moped to shoot a scene with Jarron and Miranda riding it, again, completely by accident.
Special Effects Prep Day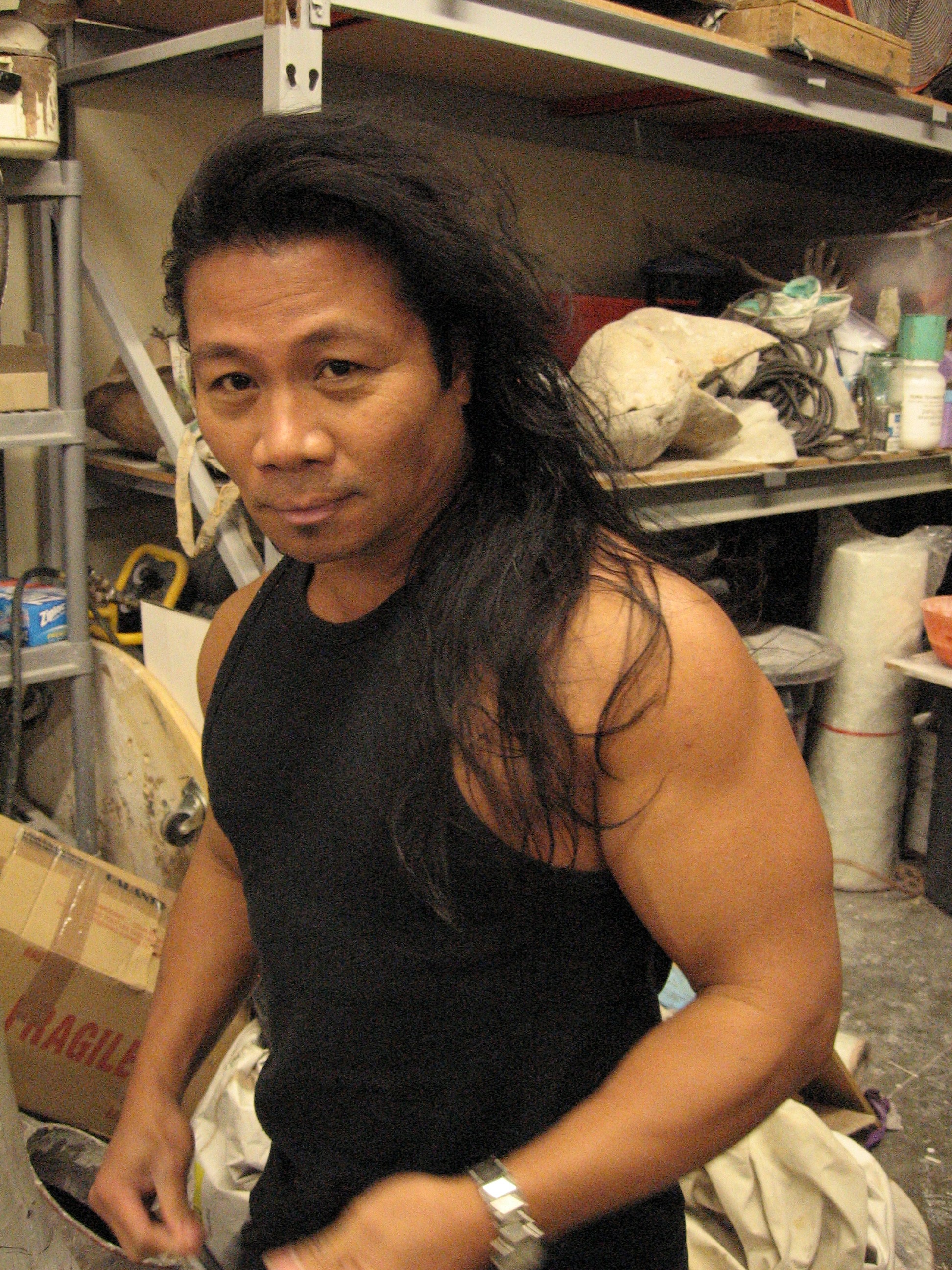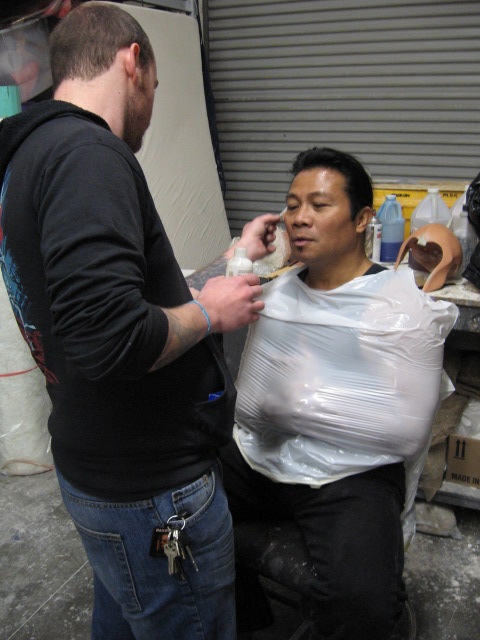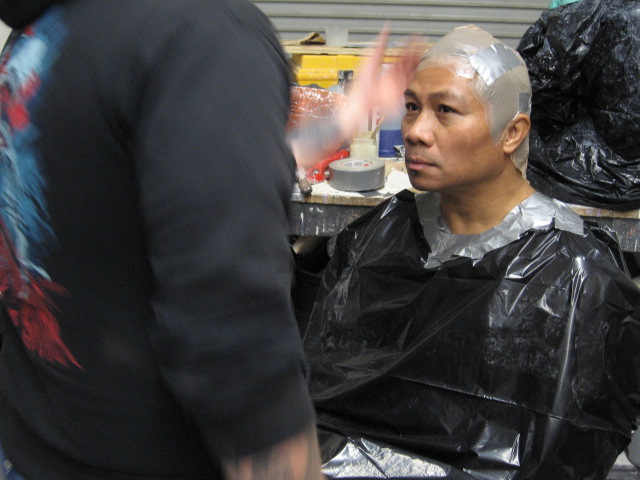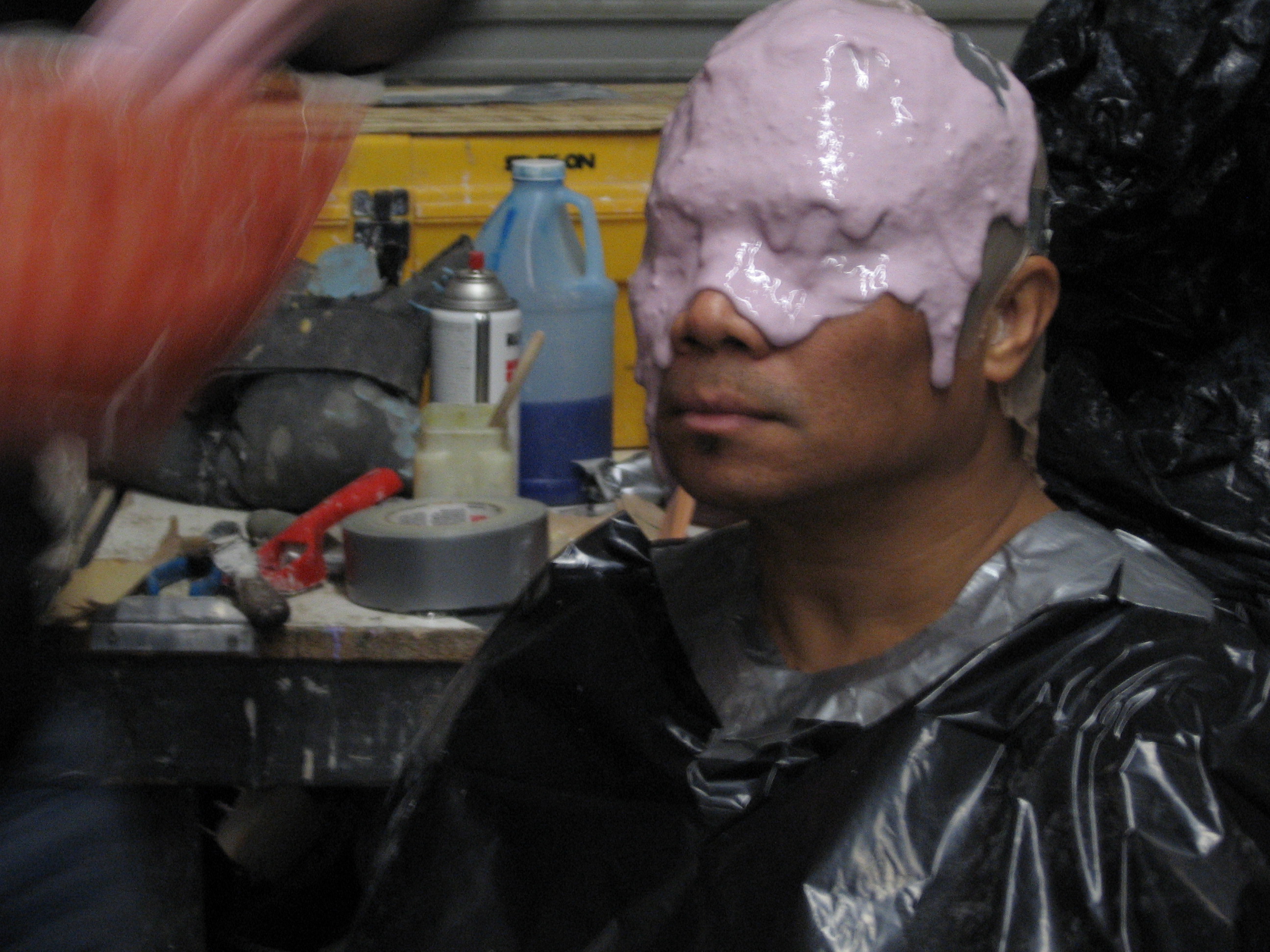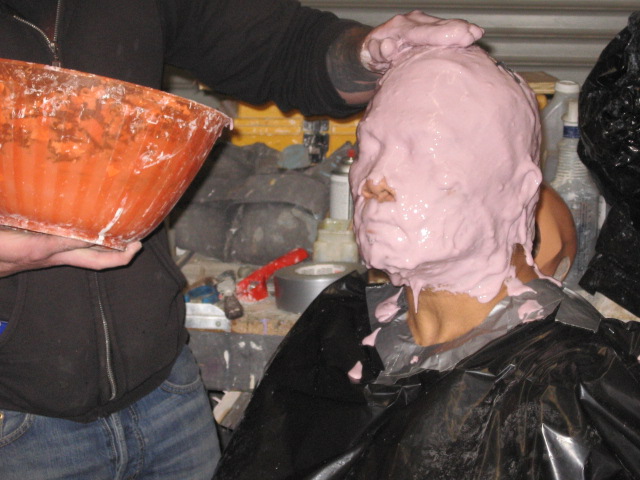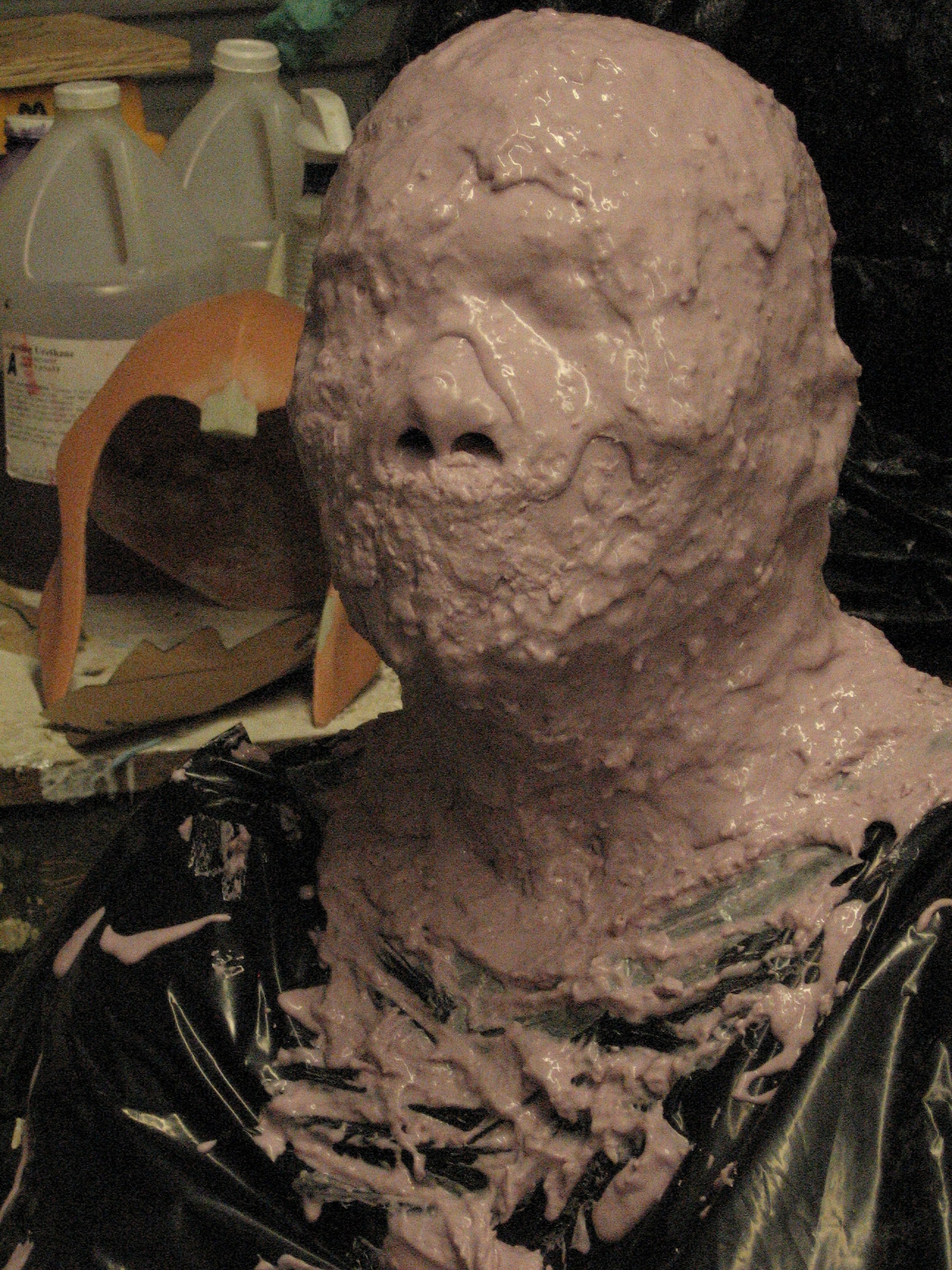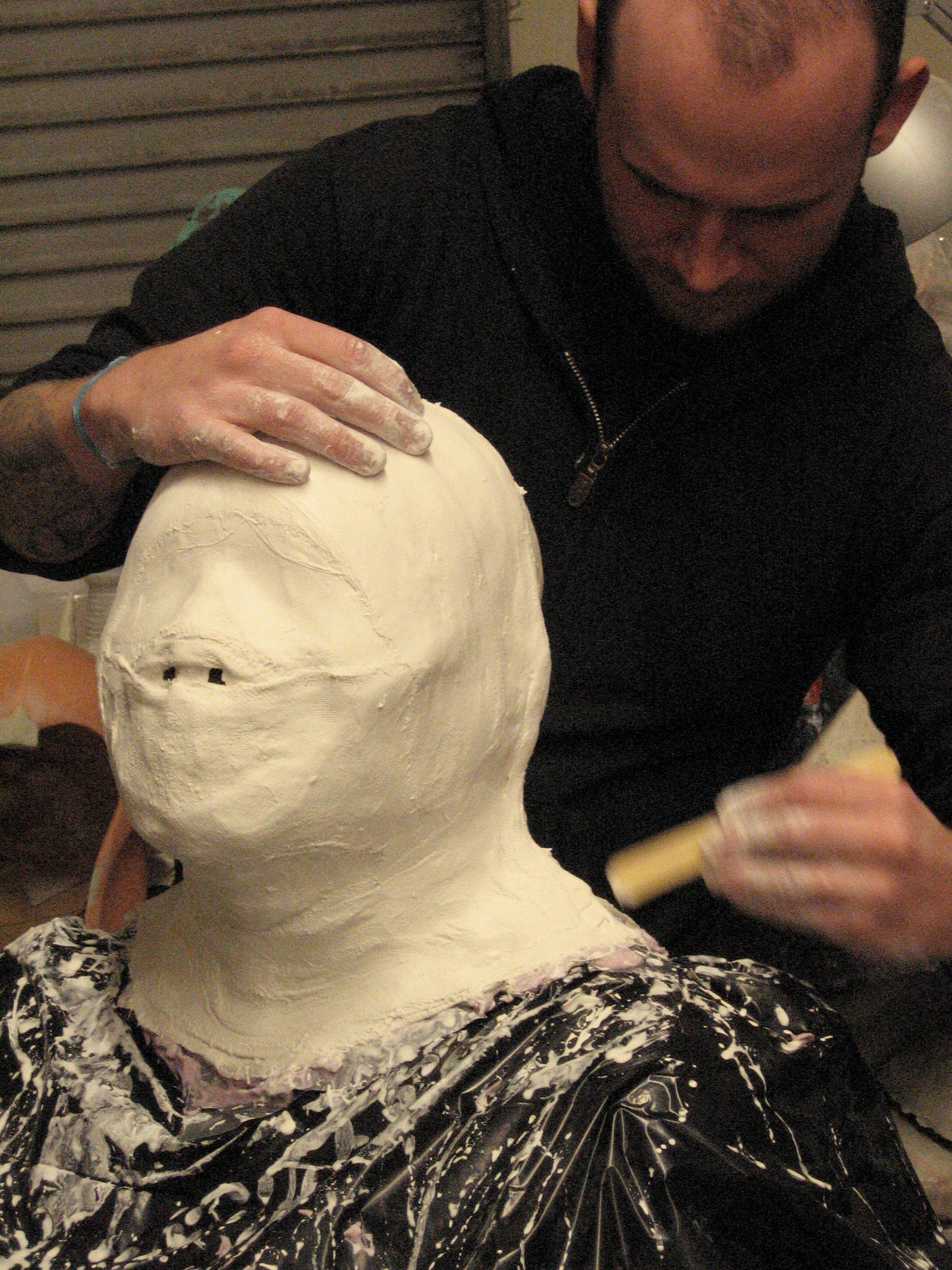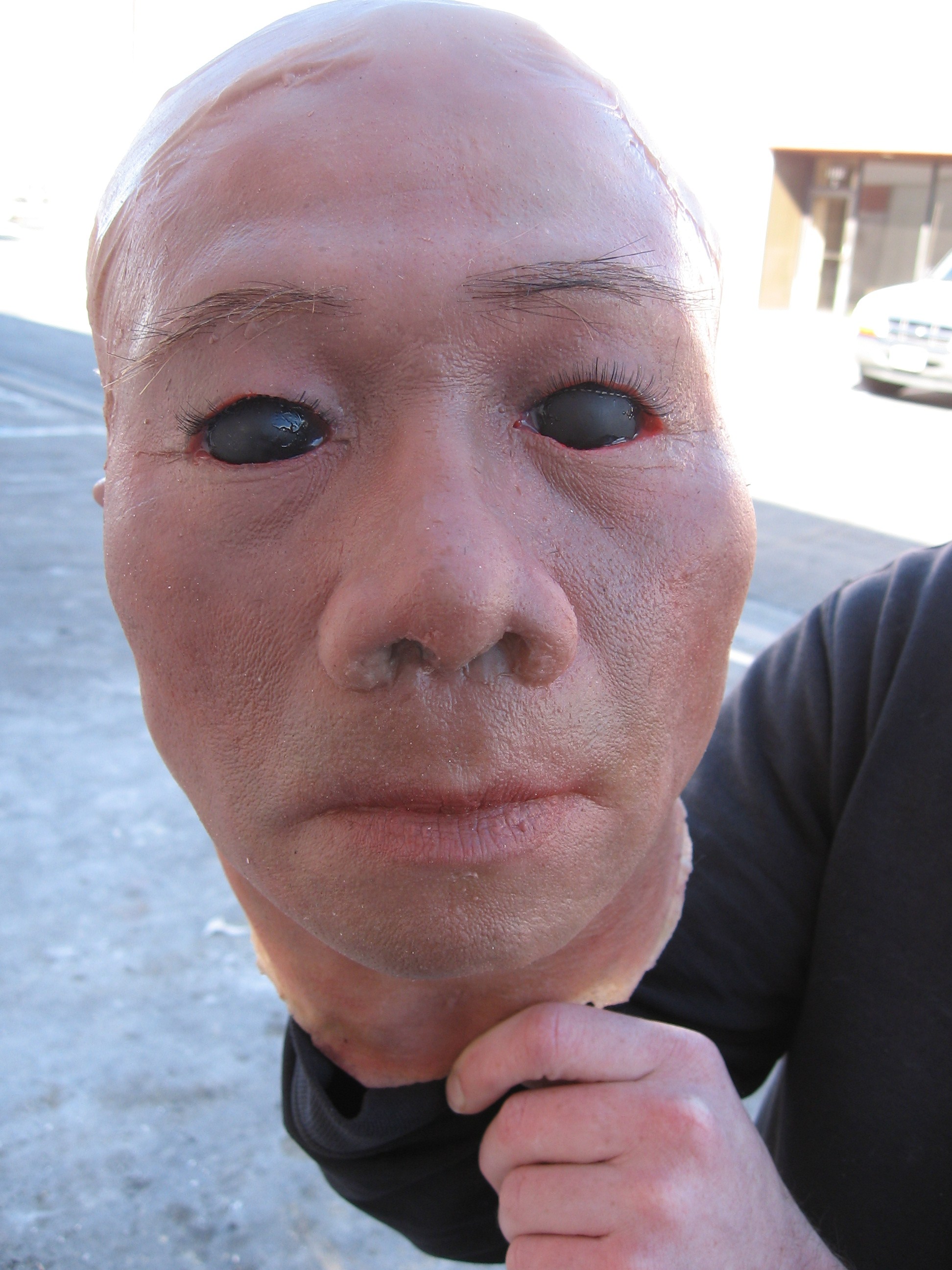 A head cast is made of actor Gil Navarra for a special effects sequence for the film's climax.
Special Effects Prep Day
A body casting is made from a model to fit a very special prosthetic on Gil Navarra for his final action scene.
Production Day 30
Production at Blue Rooster Atwater Studios. A host of featured women extras crying on cue. Art Roberts character, Mandrake, survives a bomb blast, only to be cornered by return of Michael Fallon.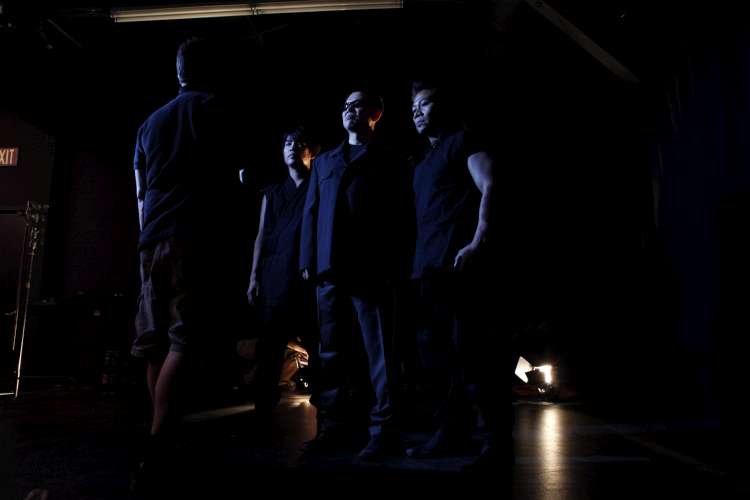 Wildlife Park day
Dean does a solo shoot for important insert shots.
Production Day 31
Arturo Leandro teaches the other extra soldiers how it's done. Actress Tia Barr makes a cameo and meets her memorable demise at hands of The Alpha Zorn Warrior. Glenn Lee Dicus is particularly pleased with the carnage wrought upon Ben as Jarron is shot up with bullets from rooftop snipers. Set Photographer Carlos Sanchez charms the cast and donates the use of his vehicle as a getaway car. Decapitation count to date: 2.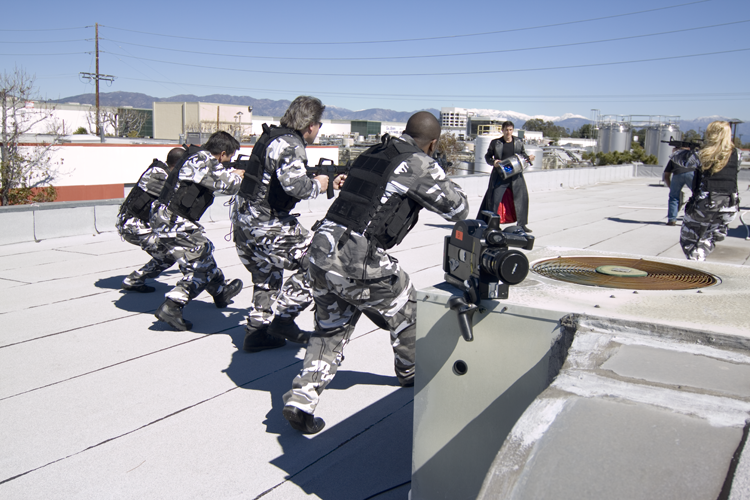 Production Day 32
Dominika Wolski can't be happier with diving onto the ground in take after take for an action shot. And the last scene of the
Tiny Little Murderous Machines
is shot. Ben hardly believes what was happening. He had hoped production would never end.
Production Day 33
The beginning of the epic showdown between The Vanquisher and The Alpha Zorn Warrior.
Production Day 34
Continues the battle of the millennium and the Alpha Zorn transformation is a sight to behold. Even Dominika, no stranger to strangeness on
Tiny Little Murderous Machines
, admits to being weirded out, making Dean proud. A cast of Yusuke's hand comes in handy. Across the street, Glenn Lee Dicus discovers some still photography going on for a porn shoot, dutifully investigates, and
documents the action
.
Upon seeing production stills and behind the scenes footage, executive producer Josh Needleman proclaims, "I feel like J. Robert Oppenheimer after watching the trinity test bombing. 'If the radiance of a thousand suns were to burst at once into the sky, that would be like the splendor of the mighty one… Now, I am become Death, the destroyer of worlds.' " Dean: "It was likely a compliment."
Production Day 35
Dean, Ben, and Gil decide one more day of shooting the climactic battle could only hope to satiate the bloodust. Here Allison Scott drops in for a blood bath.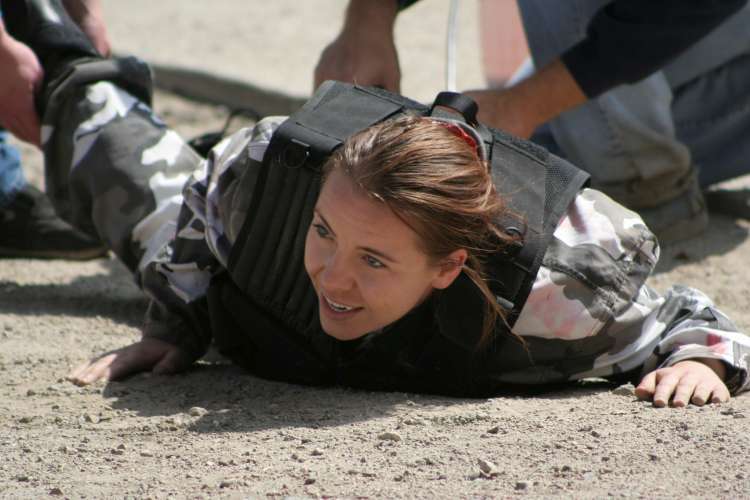 Production Day 36
Ben and Dominika's characters reunite. The end is near.
Production Day 37
A late late night driving in the rain. Jarron and Miranda race though the streets of Sector 70, creating a tense scene. Glenn Lee Dicus is terrified of Dominika's driving and he isn't an actor.
Production Days 38 and 39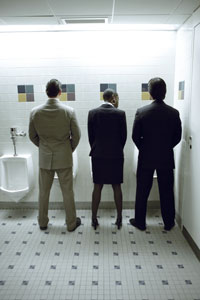 The Vanquisher is currently in Post Production and will be available for distribution in 2012.