Jarron and Miranda Vs. Sector 70
Jarron Brenner
Jarron Brenner was a spin doctor for international drug conglomerate Zeiscom Industries until he was abruptly terminated under mysterious circumstances. Now he struggles with something from within that eats him alive – literally. His body is transforming from an infusion of nanotechnology. With the help of Miranda May, he learns he is part of secret Project V.A.N.Q.U.I.S.H. (Virtually Atomic Nanotechnology in Quietly Ultra Infused Sleeper Host). Who created the program and why?
Unfortunately, his nanobot fueled blood is unstable and he must search for an antidote to his condition or the nanobots will eventually burst through every organ in his body.
Jarron's nanobot-fueled blood assimilates his deadly martial arts movements from battle experiences. Each hour he gets stronger – and closer to Phase Four, when every organ will burst in his body
Jarron is played by Ben Seton.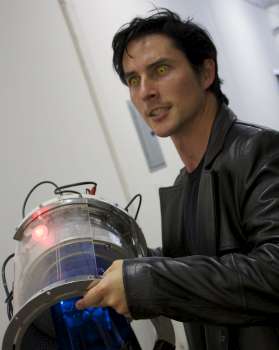 Miranda May
Miranda May's origins are something of a mystery. Her childhood was defined by an absent father - the brilliant scientist Dr. Peter Janus. A rebellious teenager found her place in a mercenary force lead by charismatic Clive Maddocks. But when Maddocks's team stumbled upon dangerous secrets, massacred his own team, Miranda barely escaped with her life. Now she seeks redeption herself from her checkered past and answers about her father's mysterious death. He assists Jarron in the hopes of raising the Vanquisher Force her father created to fight of a threat to civilization.
Moral ambiguity and sensual energy are hallmarks of this mysterious agent. Miranda is trained in advanced espionage tactics. Her opponents do not underestimate her. She understands more about Jarron than he does about himself.
Miranda is played by Dominika Wolski.